I haven't received my Studentkort details yet but would like to access my card through my smartphone. What do I do?
If you are receiving financial aid from CSN then it is possible that we have already sent you information by post regarding your digital Studentkort. To see if this is the case, please visit our website and enter your Swedish civic number. Upon doing so you will either access the activation phase or will be redirected to the application page if we have not yet sent your details.
Activation- If you are directed to the activation page you may begin your activation and then download our app to your smartphone.
Application- If you are directed to the application page this means that we have not received your information from CSN and that you may make a new application by filling out the form. 
If you recently became a member of a Student Union and have paid your membership fee, please note that it may take between 1-3 working days before we have received your information and generated an account for you. As soon as your account has been created we will send more information to you by email. 
How do I update my digital Student card?
You can update your digital Student Card by either logging out and then in again, by saving new information to your profile or by pressing the refresh icon on your digital card. By updating your Studentkort you will download new information to your app.
Refresh button
You can find the refresh button to update your digital Student Card when you are logged in on your app in the section "Show card". By pressing the icon with two arrows you will refresh your card and download the latest version.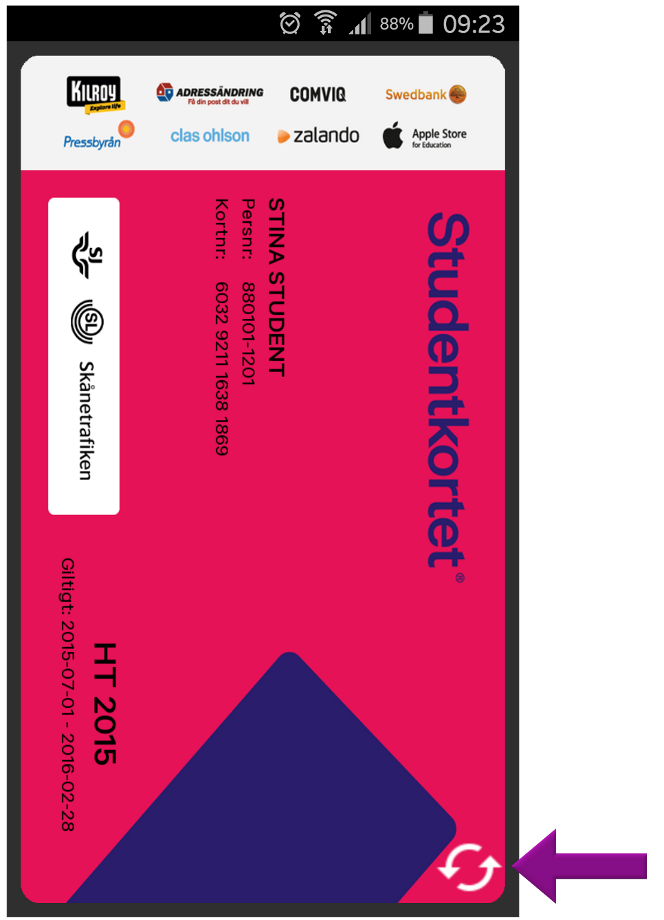 No new card?
If you update your card by refreshing it but don't see any changes, this means that there is no new information to be collected. If the validation period on your card is running out then you may have to reactivate your Studentkort or wait a few more days for your Student Union to send us your information.
Reactivation
If you have an active Studentkort that is valid until the 15th February 2018 then you can reactivate your card between 15th of January and 15th of February. Reactivation means that you can update your card without having to make a new application.
To reactivate your card you should log out from our website if you are already logged in and proceed by logging in again. Upon doing this you will be asked if you would like to reactivate your Student Card for the spring term. 
Please note: If you are a student at one of our partner universities then you cannot reactivate your Studentkort but instead have to turn to your Student Union/ Nation to apply. You can read more about our partnerships here.
Student Union member
Usually it should take between 1-3 working days from having paid your Student Union membership fee to gaining access to your Studentkort. If you card still isn't available when refreshing your current card, please wait another 24 hours.
At the beginning of the term it may take longer than three days to receive your card due to Student Unions often submitting new student information at once between the 14th- 24th of January (spring term) and 14th- 24th of August (autumn term).
Problems logging into the app (activated)
If you know that you have a valid Studentkort but cannot log in, please order a new password.
You can order a new password when trying to log in via our app or our website. Begin by entering your password and continuing to the next step. You will the be able to order a new password.
If you do not have the option of logging in with your Swedish civic number then you probably have an outdated version of the app. Please download the latest version of the app and try again.
When you press the button "forgotten your password?" you will receive an email to your registered email adress. This is the email adress that you gave when creating your account.
In the email you will receive a link that leads you to the possibility of creating a new password. The new password that you choose will allow you to log in via the app and our website. 
How to order a new password via an Android smartphone.
If you order a new password via the app and are using an Android smartphone, then please open the link in your email with the option "Studentkortet".
If you open the link with another web user then the page will not be found.
Have you not received a new password email?
If you have ordered a new password but you cannot find an email from us, then it may have ended up in your spam filter.
When using the web client Gmail then automated emails from businesses very often end up in the category "campaigns". 
Does my Studentkort work even though I don't have coverage?
Yes, our apps for both Android and iPhone are built so that they can give you access to your Studentkort even without coverage or 3G. All you have to do is log into the app when you do have coverage and download your Student Card. As long as you don't log out of your app then your Studentkort will be saved. 
To close the app without logging out, press the home/ menu button on your smartphone, the app will then be closed without logging you out of your account.
I have lost my plastic card, can I use my smartphone instead of ordering a new plastic card?
Yes, if you have lost your plastic card then you should first and foremost use your digital Studentkort.
You can access your digital Studentkort by downloading our app "Studentkortet" to your smartphone. You can begin your download here.
As soon as you have downloaded the app you can log in simply using your Swedish civic number and your password. The app gives you access to your digital Studentkort, profile and student discounts. 
If you haven't already activated your card then you will be asked to do so upon logging in.
I have applied for a Studentkort, do I only receive a digital card?
Your Studentkort is primarily digital and therefore a plastic card is not sent out automatically. You should first and foremost use your digital Studentkort via your smartphone. You can download our app here.
If you do not own a smartphone then a plastic card can be ordered through your profile when you are logged in via our website.
Please check all the following information before you order a plastic card:
Your address - Please note that if you are currently living in an apartment that your apartment number should be stated. If your name is not present on the door or post box, please provide a C/O address.


Your card - The picture of your card in your profile shows what your card will look like in its plastic form. No plastic cards will have the travel logos printed. Read more about travel logos here.
Please note- No changes can be made to your plastic card or your order once the order has been placed. This means that all changes to your contact information or card details must be completed before the placement of an order.
Does my digital Studentkort work as travel verification?
Yes, your digital Studentkort can verify that you may travel with student discounts if it contains travel logos in the bottom left corner. Students at Gymnasiet are not eligible for travel logos, they travel us "youth" instead.